Nudging reduced the amount of cigarette butts in the streets
Since autumn 2016, the city of Gothenburg, together with the company A Win Win World, has carried out two different studies to nudge cigarette litter of the streets. It is a large environmental, aesthetic and budgetary problem and the city had difficulties to tackle it. In Sweden, litter from tobacco related products stands for 80 percent of all waste in the streets.
The city decided to try something new and took help from A Win Win World to come up with new innovative ideas and a bit of the glimt-in-the-eye-humor that the city of Gothenburg also is known for.
Signs with a cartoon pigeon were set up with the message "Please stub out in the ashtray, the pigeons are trying to quit smoking". The ashtrays were also painted orange to increase visibility.
The stunning result showed that the ashtrays with the nudge worked 70 percent better than plain black ashtrays.
Photography and video fotage: John Areblad/Kanvassfilm.
Contact A Win Win World for permission to use the pictures before you do so.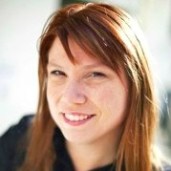 Katharina Paoli,
Managing Director,
katharina@awinwinworld.com