May 3: New date for our popular Master Class on Nudging– or take it as an online class!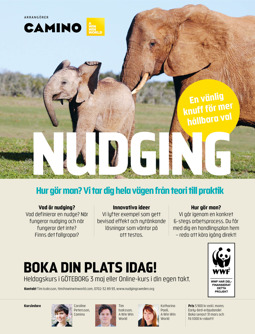 Do you want to learn more about Nudging for sustainable choices? We have developed a Master Class with a focus on how to get started using nudging as a concrete method in your organization.

During the autumn of 2016 A Win Win World , in partnership with WWF, offered a Master Class on Nudging. As many people have asked for more dates, we are glad to announce that we will run the Master Class again! This time also collaborating with our friends from Camino. And now you can also choose to take it as an online class!

On May 3 we arrange a full-day Master Class in Gothenburg, but you can also choose to sign up for our online class and take the class in your own pace. Both classes will be held in Swedish.

What is nudging? What defines a nudge? When does nudging work and when doesn't it? Are there any do's and dont's?

We highlight examples that have had measurable results and innovative solutions still waiting to be tested. You will learn a concrete 6-step work process and get an action plan to take home with you – ready to get started at once!

Additionally, a 30-minute follow-up consultation is included, in which we after a few weeks again help you with questions that arise around your own nudging projects, or with any questions in general that might pop up.

Instructors:
Caroline Petersson, Camino
Katharina Paoli, A Win Win World
Tim Isaksson, A Win Win World
Price:
5 900 kr, excl. moms (VAT). Register by emailing tim@awinwinworld.com.

Time:
8.30 – 17.00

Location:
Central Gothenburg. Venue to be announced

Do you want to attend the Master Class but can't make it May 3? Contact us and we'll work something out.